How to recover deleted WhatsApp messages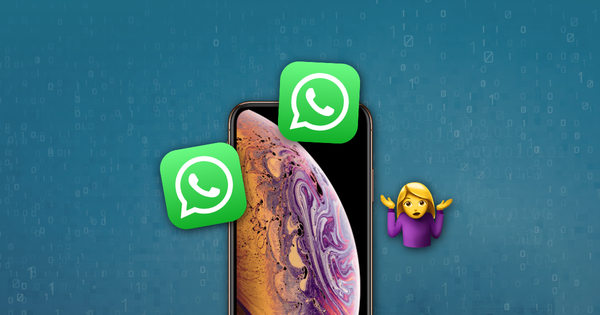 How to get your WhatsApp messages back from an iPhone
With over a billion users, WhatsApp is one of the most globally popular messaging apps. As with any other data on your iPhone, WhatsApp chats are important, and losing them can be a pain. iPhone Backup Extractor can undelete WhatsApp conversations from all iOS devices. Here's how to get your lost data back in few steps, if you've lost your iPhone or accidentally deleted WhatsApp messages.
WhatsApp messages can be recovered from an iPhone in 4 steps:
Download and install iPhone Backup Extractor
Find a suitable iTunes or iCloud backup
Use iPhone Backup Extractor to recover the messages
Easy!
What can be recovered
Messages
Photos
Videos
Finding saved WhatsApp chats
WhatsApp conversations aren't stored on WhatsApp's servers, so it's not possible to restore them directly from the app itself. The good news is that your iPhone has likely already saved your WhatsApp chats in an iTunes or iCloud backup -- and you can extract the messages you had stored on your iPhone or iPad.
Not sure what backups you have? Check here:
iTunes backups: if you didn't enable iCloud backups on your device, iTunes backups are automatically created when you sync your iPhone with iTunes, and you should have one in your default backup folder. If you're not sure whether you have an iTunes backup, iPhone Backup Extractor will be able to show you.

iCloud backup: to check if you have an iCloud backup, open Settings on your iPhone, and in the first menu, tap iCloud. At the bottom of the iCloud Drive screen you should see Backup - tap that. If iCloud backup is "on", then you'll see information about the date and time of the last backup. *Don't hit "backup now", as that will overwrite your current backup!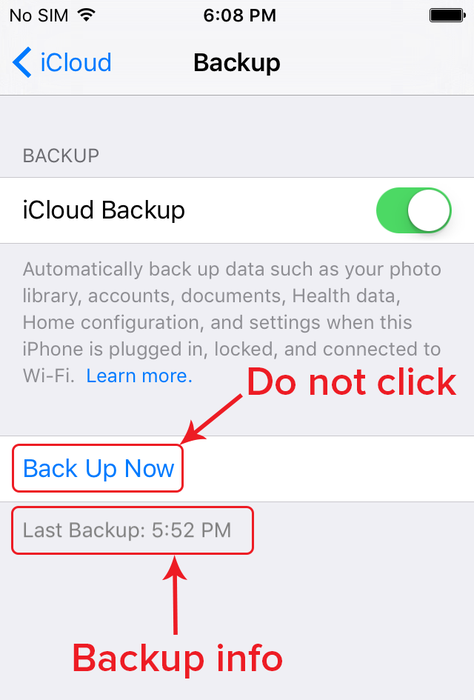 Before starting, make sure your device will not overwrite your last backup. To do this, check that your device is not charging or connected via USB (iCloud backups can be updated and overwritten automatically if the device is connected to Wi-Fi, charging, and locked).
Recovering WhatsApp chats
Here are the steps you'll need:
Step 1. Download and install the free edition of iPhone Backup Extractor
You can get it for Mac or Windows PC. (If you plan to use an iCloud backup for recovery, you'll need to upgrade iPhone Backup Extractor for full iCloud access.)
Step 2. Select the backup that contains your data
If using an iTunes backup
iPhone Backup Extractor will automatically check for backups located in your default backup folder. If your backup is located in a different location, select the folder by clicking the button "Add backups".
If using an iCloud backup
Click the "Add iCloud backups" text in the app's iPhone backup browser, on the left-hand side of the app, and then sign in to iCloud using the window that pops up. You'll need your iCloud username and password.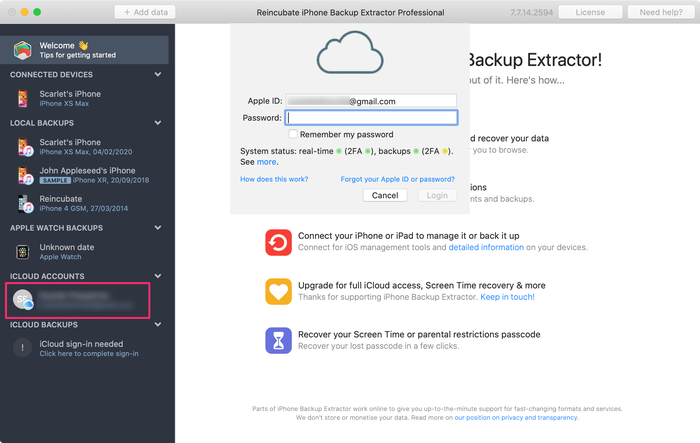 If multiple backups are available from iTunes or iCloud, select the one containing your WhatsApp messages from the list of backups shown on the left-hand side of the app. If you have an encrypted iTunes backup, you'll need to enter your backup password.
Step 3. Recover your WhatsApp messages with a click
With the iTunes or iCloud backup loaded into iPhone Backup Extractor, you'll be able to see the number of WhatsApp messages found in your backup in the "Overview" section.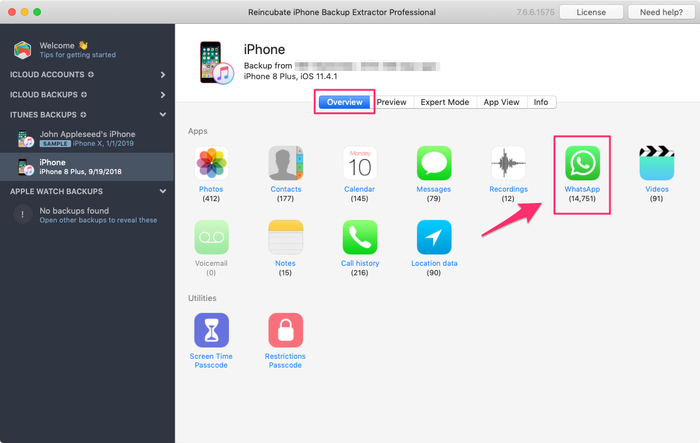 Click on the WhatsApp icon to extract your messages. iPhone Backup Extractor will ask you which format you'd like to get your data in, PDF, CSV or HTML (CSV option will save all your messages as text in a single file without any images, while HTML option will save them in separate files, allowing you to open them in a browser). We'd recommend you extract your data in PDF, as it's easiest to read anywhere.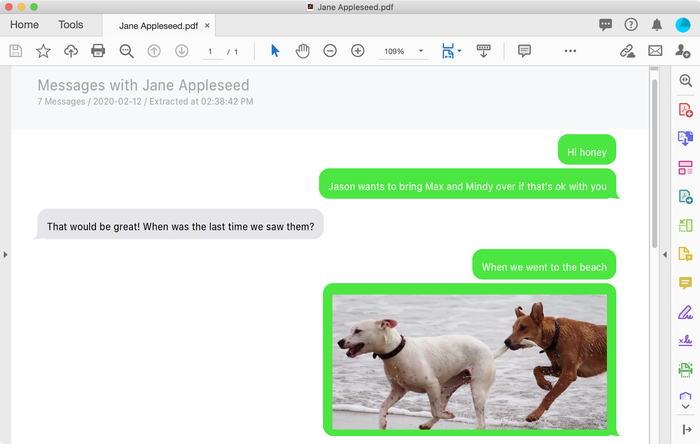 Then you'll have to select the location where you want to export the files. Click OK and the folder with your messages will open. That's it!
Alternately, once your backup has been selected, you have 3 other ways to see your WhatsApp messages and attachments: "Preview", "Expert" or "App view" modes:
The "Preview" mode allows you to preview WhatsApp messages and their attachments. Click on "WhatsApp", and you will see a list of all possible messages that can be extracted in the right-hand side. Select messages with attachments, click on "Extract", and choose a location to save them. Messages are extracted as HTML, whilst images and videos are saved in a separate folder called "Data".

iPhone Backup Extractor's preview mode showing WhatsApp messages

In "App View" mode, select "WhatsApp Messenger" and click on the link next to "All Files". Then pick a location where you need to extract the attachments. You'll find your data in Library → Media folder.

WhatsApp in "App view" mode

In "Expert Mode", access the following path Application Domain → net.whatsapp.WhatsApp → Library → Media. The "Media" folder contains all the WhatsApp attachments. Choose the Media folder then click on "Extract" to save your WhatsApp attachments.

Extracting WhatsApp media with iPhone Backup Extractor
Accessing WhatsApp backups directly
As well as saving your WhatsApp chats in an iTunes or iCloud backup, WhatsApp can also backup messages directly to iCloud when users have iCloud enabled.
This won't let you pick and choose which messages you recover: it's an all or nothing recovery that is built into WhatsApp itself, and which is best used when moving to a new iPhone, if WhatsApp messages weren't migrated with the usual iTunes backup and restore process.
You can access the WhatsApp chat archive inside the WhatsApp app itself:
Open WhatsApp, and tap Settings in the bottom right

Tap on Chat Settings, then Chats and Chat Backup

You'll see a screen that will tell you when the internal WhatsApp iCloud backup service is enabled.
In order to restore WhatsApp messages from this internal backup, the process can be a little scary. That's why we've led off this guide with a different approach. In order to restore from the internal backup, you'll need to:
Ensure a backup has been completed in WhatsApp

Delete WhatsApp from your iPhone

Install WhatsApp from the app store

Configure WhatsApp as you normally would, with the same phone number you used before

WhatsApp will ask whether you'd like to restore your chat history from iCloud; to proceed, tap Restore Chat History
Frequently asked questions
You can access your ChatStorage.sqlite file using "Expert mode" as described in the steps above, and iPhone Backup Extractor enables you to get that file both from iTunes and iCloud backups. You can use this when migrating your data to Android. We publish a guide to getting ChatStorage here.
We've got a neat guide on how to selectively restore WhatsApp messages to an iPhone or Android here.