How to recover deleted text messages from an iPhone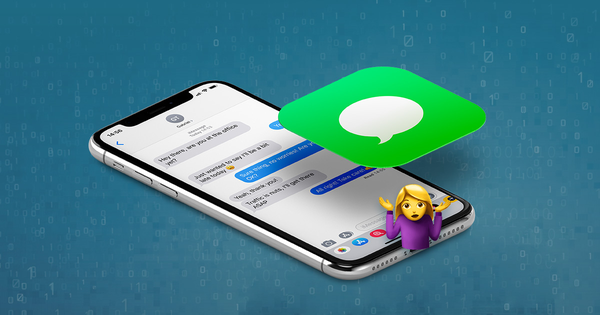 We send and receive a significant number of messages every day, and over time, that data adds up.
Not all of these messages will be worth remembering, but some are incredibly precious, such as messages from loved ones, or texts containing important information you're likely to need again. These are messages that you'll want to hold on to, no matter how old they are. Luckily, if you've hit delete on messages and you want them back, there are a number of methods you can use to retrieve these messages and their attachments.
This article will help you to recover deleted text messages (from iMessage, SMS and MMS) and attachments from your iPhone or iPad. Your iPhone message data can be accessed in the four following ways:
If you're looking for help with a specific stage, you can click on the links at the top right to dive straight into the action. If you're not a words person, we've included a video below to take you through it.
Method 1: Recovering deleted texts from iPhone backups
Apple's software does a great job of keeping your messages safe to protect your privacy, such as preventing third-party apps from accessing them. As such, finding ways to recover lost messages takes some inventiveness. Recovering your messages from a backup is generally the best solution.
The easiest way to recover deleted messages is by finding them in an old backup - ideally one that was taken before the messages had been deleted, but in some cases a newer backup can work. If you don't have a backup of your phone from before the messages were deleted, you can still try to recover them by making a new backup of your phone. Beware, though: creating a new backup through iTunes, Finder or iCloud will overwrite the old backup and lose any data stored there. So, if you already have a backup, don't create a new one.
Now we've established there's a backup available, let's take a look at the data available in it.
Download and install the free version of iPhone Backup Extractor to your PC or Mac.
Having loaded iPhone Backup Extractor, you'll be presented with a list of iPhone data on the left-hand side of its window. It'll show your iTunes backups, and has a section which explains how to add your iCloud account and iCloud backups.
Select your backup from the left-hand menu of iPhone Backup Extractor. That'll lead to an overview of available data being shown, like so: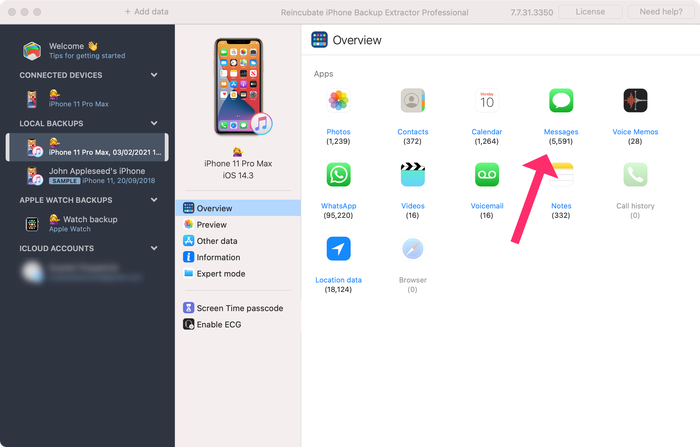 The overview will show you how many messages can be seen in the backup, and you can extract them by clicking on the familiar green messages icon. In order to examine them, there's no need to export straight away. Instead, you can choose to Preview your messages from the tabbed controls on the overview. From here,you can select Messages and dive straight into a list of the messages available in your backup.
At the bottom of that window, there's a drop-down control which lets you include the display of deleted messages. Setting it to "show everything" will include deleted messages in the previews. We highlight these in red, like so: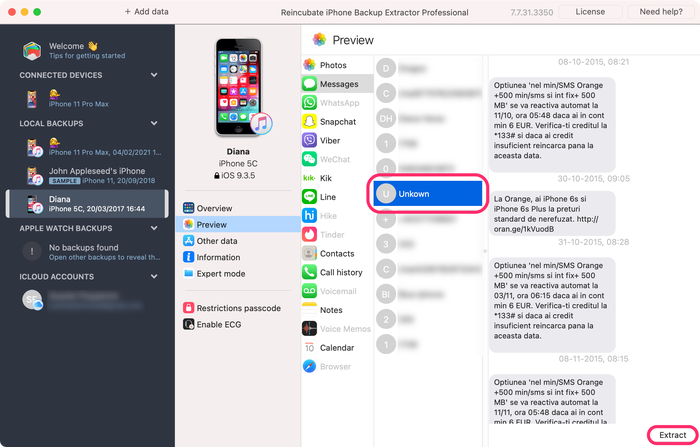 You can now use iPhone Backup Extractor to export your messages. The free edition of the app will export up to four messages at a time, whilst the licensed edition removes this limitation.
To export your iPhone's messages, clickExtract at the bottom right of the screen. This will extract your messages as a PDF. You can export messages in PDF, HTML and CSV formats.
For most users, PDF format is the best choice. PDF files can be read by any computer or smartphone, and always look the same. They're also most useful if you ever need to supply proof of message, for instance if you need to provide proof of cancellation of an appointment or order.
Since iOS 10, iMessages have included drawings, animations, handwriting, and richer emojis. As soon as the first preview shipped, we updated our software to support this feature, so you can use iPhone Backup Extractor to preview, extract and recover iMessage drawings and all other iMessage media.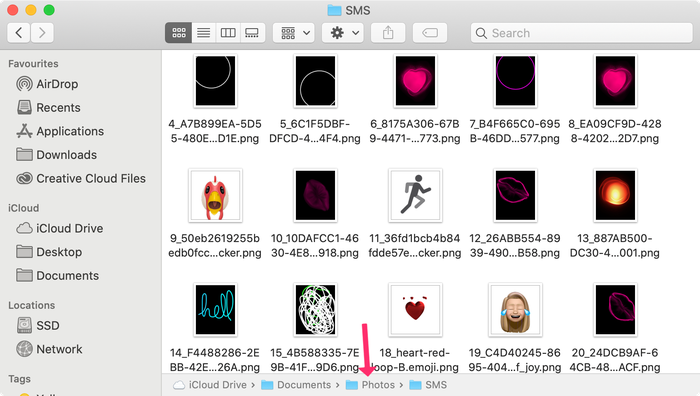 You can change the format messages are exported in by going to Preferences in iPhone Backup Extractor, and selecting your preferred format for messages in the General tab.
Exporting directly in Messages
If you'd just like to save your Messages conversation without recovery of deleted content, you can use Apple's built-in export function. You can do this directly from your iPhone by following these steps:
On your iPhone or iPad, open the messages conversation you want to save.
Press and hold on one of the messages, and click More
Select all the messages you want to export, then tap the curved arrow in the bottom right of the screen.
This will copy all of your selected messages into a chat box, which you can then copy and paste to your notes or send to others. Unfortunately, this method will not work for images and Memojis, nor will it separate out individual texts or include timestamps, so if you want these features, you're better off extracting your messages from a backup!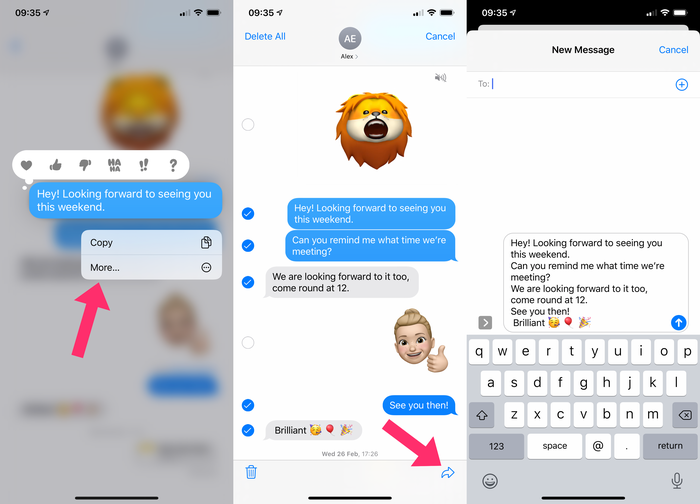 Restoring deleted texts from iCloud
It's also possible to restore text messages to your phone directly from iCloud. Here's how:
Go to Settings → [your name] → iCloud → Messages. If it's toggled on, toggle it off. Your phone may say "Messages in iCloud: Messages have not been fully downloaded to this iPhone". Choose "Disable and Download Messages".

Toggle the Messages setting back on, choosing to merge messages on your device. This will trigger download of your messages from the cloud back to your device. After some minutes, the process will complete.
Need help getting your texts or SMS messages back?
If the earlier techniques haven't helped you to recover all of your texts and iMessages, then not all is lost. iPhone Backup Extractor is built around a piece of technology which we call the ricloud API. This lets us do some pretty advanced things which are unique to Reincubate. We can use it to recover the data in question from a "partial snapshot" which has older data than your iCloud backup. If your data was stored on an unencrypted disk, it may be that a disk recovery has potential.
We have a number of tricks we can harness for you, and we genuinely love talking to our users. Don't be a stranger: reach out to the support team with the email address at the bottom of this page, and let them know what you've tried and how you've got on.
Frequently asked questions
The easiest way to get iMessages on Windows is by following the instructions above: iPhone Backup Extractor gives you a fully-featured iMessage viewer for Windows. It'll let you see attachments, diagrams and messages on your Windows PC, just like you would on your iPhone.
The "Messages" app on newer Macs integrates with the iCloud to give you access to iMessages and texts on your desktop. Setup is easy:
Make sure you're signed into the same iCloud account on the Mac as on the iPhone

On your iPhone, go into Settings → Messages → Text Message Forwarding, and you'll see a list of the iMessage-compatible devices associated with your iCloud account.

Enable or disable the devices you'd like to use text message forwarding on; you'll be able to send and receive texts on any of these iPads or Macs
There's no simple iMessage client available on Android at this point; Apple take care to protect the iMessage experience. However, we have a guide to help you migrate iMessages to Android. Reach out if you get stuck!