How to restore messages and other data to your iPhone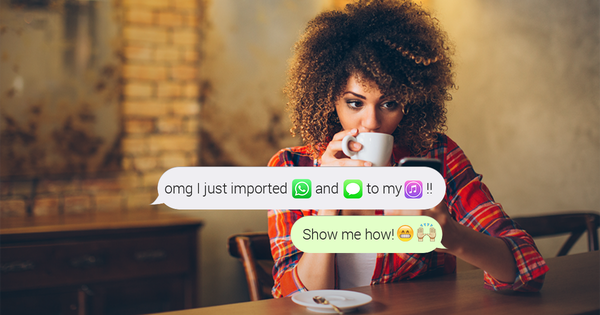 Let's suppose you've lost some of the information from your iPhone and you want to get it back. Perhaps you were upgrading to a new version of iOS and something went wrong or you simply deleted some contacts, photos or notes by mistake.
Have you ever wondered how to restore messages, WhatsApp chats, notes or other data from an older iPhone or iPad to a newer iOS device? Or maybe you have a corrupt backup and you need to recover and restore parts of your data. No worries! We've got you covered. You can restore your data, so long as you have an iTunes or iCloud backup to extract data from.
In this article we'll guide you through the steps you need to take to recover and restore your iOS data.
How to import SMS and WhatsApp messages to your iPhone
Restoring these types of data can be tricky. We've got a video to take you through the process, and we're going to cover the main technique in this article: read on!
This procedure can be overwhelming if you're not technical (in which case our experts can help you out). We recommend you read it through at first and get started if you're confident you can finish it. Otherwise, just reach out to us by live chat or email.
In summary, you get iTunes to take a new backup of your upgraded phone, patch the new backup with files from an older backup, and then restore the new backup onto the phone. This method works for both encrypted and unencrypted iTunes backups, although you'll need both your iTunes backup and your iOS device to be on the same version of iOS.
You'll be able to restore your messages, WhatsApp chats, notes, call history and other data by following this procedure. Of course, you'll need an older backup that contains the data you want to restore.
1. Is it in your iPhone backup?
First, you'll want to see whether the information you need is stashed safely away in the backup that iTunes keeps of your iPhone. The free edition of iPhone Backup Extractor is a handy way to see what's in your iPhone backup.
2. Backup your iPhone or iPad: create a fresh backup to modify
Before you start, make sure you backup your iPhone with iTunes and create a safe copy of the backup containing all your data.
To back up your data with iTunes follow these steps:
Open iTunes
Connect your iPhone to your PC or Mac using your USB cable
Click on your iPhone's icon and then choose to back up on the computer rather than iCloud, as it'll be quicker to restore from
3. Patch your iPhone backup and restore your iOS data
Assuming you've completed the step above and created a safe copy of your new device backup, we can continue.
We want to locate the databases holding data in your recently created backup -- and replace them with the databases from your older backup.
Each app's data is stored in a different place. Depending on the data you need to restore, you'll find this article helpful in finding the right data. We'll use SMS, iMessage and WhatsApp in the examples below.
How to restore SMS messages to your iPhone
Open iPhone Backup Extractor and choose the older backup with the data you want to copy data from, using the left-hand menu.

Select the "Expert mode" tab. Go to Home Domain → Library → SMS → sms.db and extract that file to your computer. It contains your SMS and iMessage data.

In iPhone Backup Extractor select the backup that you want to import your messages to in the left-hand iPhone backup browser.

Go to the "Expert mode" tab and browse to Home Domain → Library → SMS → sms.db. Right-click on sms.db and choose "Replace". Choose the SMS database you extracted earlier.

Finding the sms.db file

Replacing the SMS database in an iTunes backup

A new window will announce if the replacement was successful.

Successfully replaced the sms.db

Connect your iPhone with the USB cable and open iTunes. Ensure you have the modified backup in the default iTunes location so that iTunes picks the backup automatically.

Restoring an iTunes backup

Restore the newly modified backup (where you just replaced the sms.db file): click on "Restore from backup", and choose to restore the most recent backup. Once completed, your SMS messages from the first backup will be restored on your iPhone.

The "restore from backup" dialog
How to restore WhatsApp messages to your iPhone
The process is almost identical to the one used to import iMessages. However, instead of finding the sms.db file, you're going to look for another: ChatStorage.sqlite.
You'll find it in "Expert mode" under Application Groups → net.whatsapp.WhatsApp.shared → ChatStorage.sqlite, and you should replace it there in the target backup that you're modifying.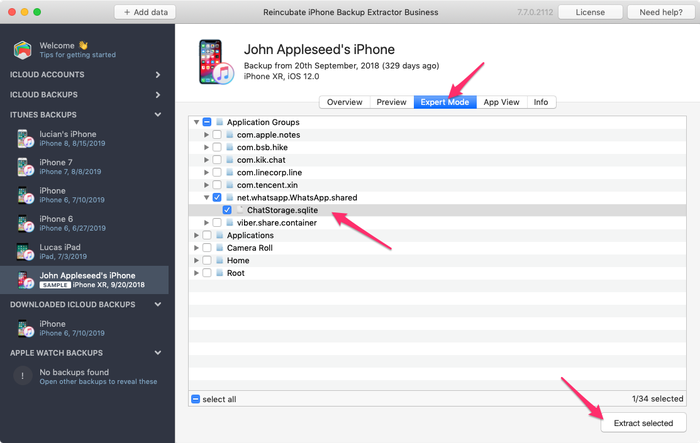 If you run into any problems along the way, we'll happily assist you in restoring your iOS data. Drop us a note or say hi on the live chat.