How to keep memories safe on your iPhone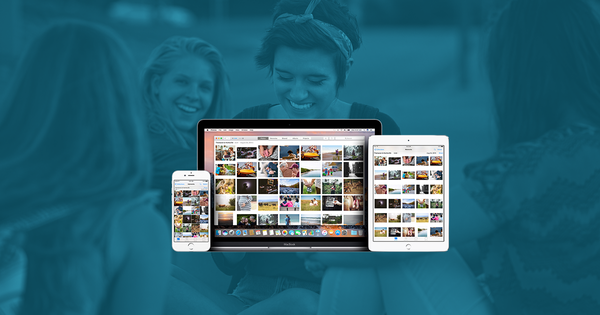 Happy Thanksgiving! Is this year's Thanksgiving table setting more beautiful than the pictures and ideas trending on Pinterest? Are you inviting new family members and friends this time around? We're here to help you keep all of your charming photos and videos safe over the years.
First, have you noticed just how many more memories everyone is sharing online nowadays? 30 Thanksgiving hashtags, plus one big #ThrowBackThursday will fill your Instagram, Twitter, Snapchat, Facebook and WhatsApp chats with a deluge of turkey pictures and impromptu moments taken over the years.
Sharing memories is something that everyone enjoys, it brings people together, strengthens bonds, and confers identity.
We share more pictures now than in any period of post-camera history; it took 100 years) to share a billion photos. This year it will take 12 months to share 2.6 trillion through over 2,000 apps and websites.
Many of these shares will help to bridge connections across continents and help us feel like we're still family despite the distance. Especially around Thanksgiving and winter holidays, it adds a layer of continuity to our life stories, even when we're apart.
Bring on the Thanksgiving filters!
It already feels like photo styles are so last year, doesn't it? Prisma, Instagram and Snapseed are still the most popular photo editing apps. But then Snapchat and Apple's Photos made emojis and filters so popular, they're all over the place.
Make your own Thanksgiving filters with That's a Snap or learn how to use Geofilters to create new ones, no matter where on Earth you decide to enjoy your Thanksgiving dinner!
Don't just share photos, collaborate!
Excited about making a family album with all of the Thanksgiving photos you've taken since 2007, when you received your first iPhone for Christmas? It's quite a pain to gather all photos, from emails, Dropbox, iCloud and iTunes, not to mention from all family members. And you know your spouse loves using Android, which makes it terribly difficult to keep backups in one place, doesn't it?
Ever helps you out. You see, it aggregates all photos you've ever taken, from all devices, local folders, backups, or albums (Google, Facebook and iCloud too). You can also collaborate with your friends on adding photos or curating a special Thanksgiving one just for you!
Safe and sound storage
Experiences that we choose to remember and share are still the same, but the instant nature of photos and sharing has allowed us to participate in distant events. Over the years we watch our children growing up, and our friends enjoying their best life moments with us.
Moments like this are so valuable and the photos that help us remember them must be kept safe. Every year 30% of phones are accidentally damaged or broken, and it can take just 10 weeks for your iPhone to be damaged.
The leading causes of damage? Falling out of the user's hand, falling into liquid, falling out of the user's lap, getting knocked off of a table, having liquid spilt on it. What could be more threatening for an iPhone than the upcoming holiday season?
Then you need to factor in the intensity of the Thanksgiving experience. During the day phone calls come in. Messages are received. Messages need to be sent. Emails arrive. More phone calls. Return the calls. Answer the phone. Check the turkey. Pass me the plate. Check the kids. Answer the door. Did you check the turkey?
Suddenly, you drop your iPhone. A sickening crack seems to echo around the room. The world blurs out of focus and everyone's voice is muffled. You look at your iPhone but you don't get a response. You beg Siri to show you some sign of life, but she's gone.
So, how to get your data back?
One of the most important things you can do is create a backup of everything, every day. Make an iCloud and iTunes backup every day and perhaps more than once a day when you are taking so many photos. If you lose or break your iPhone then you will need those backups to recover the data.
Used iPhone Backup Extractor to recover from both my iTunes and iCloud backups. I still have all of the old backups on a hard drive. If you ever need those turkey photos, you know where to find them.
Cloud albums for Thanksgiving
All of the photos will require hard-drive or cloud space, and Delloite's prediction is that 3.5 exabytes (3.5 billion GB) storage will be required for the photos we take. Trillions will be stored online -- but trillions will also remain on the iPhones, or in backups.
Memories are important and the iPhones sometimes run out of storage. Is your iPhone safe enough to look after your images? Think of all of those moments when you feared you'll drop it on the train rails as the tube approaches.
Cloud-based systems allow you to create family albums which can let others add their photos to our own.
A Thanksgiving album can be open and restricted to family members. You can easily set up a family Thanksgiving album on iCloud by opening the Photos app and clicking the + button. Then give it a name like Family Thanksgiving. Add people's email addresses or use the + to add them straight from your contacts. Allow subscribers to post to make sure you get a comprehensive Thanksgiving album.
With the Thanksgiving album stored in the iCloud, your family will be able to download and print off all of their favourite images. Amazon has recently thrown their hat into this ring; if you are already a subscriber to Amazon Prime then you also have a photo sharing service. You can share your photos or the entire album with your family via email with no subscription required.
If you are interested in helping your family print the pictures, then the Keep-Calm-o-Matic is a great option. The merchandise is incredible with users being able to order prints, mugs, and best of all, huge posters.
Technology has truly changed how we share and create digital memories over the past few years! We hope this little guide made you feel prepared for all of the moments you'll be capturing and saving today! As we can't help you with roasting the turkey, this article stops here. Share it with friends, and enjoy your Thanksgiving Day!