2 fast and simple ways to recover lost contacts from iCloud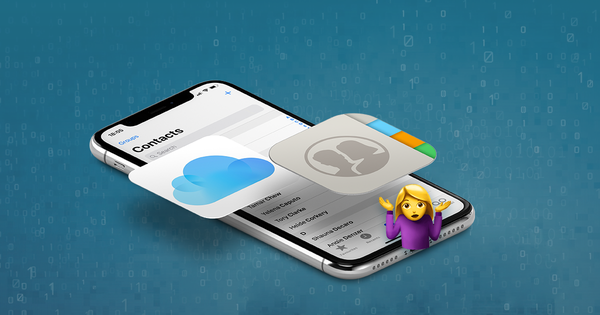 How to quickly recover lost contacts from iCloud
Have you lost some of your iPhone's contacts? Don't worry, we'll show you 2 easy ways to get them back from iCloud in no time!
What you'll find out:
2 fast methods to get your lost contacts via iCloud

Bonus: how to use your iCloud backup to recover contacts

Top 4 reasons for losing iPhone contacts

How to avoid losing iPhone contacts
Here are the 2 fastest available options to recover your contacts from iCloud:
Merge iCloud contacts (if the "Contacts" option has been turned "On")
Export contacts from iCloud (if the "Contacts" option has been turned "Off" but you previously synced your contacts to iCloud)
1. Merge iCloud contacts
If you enabled iCloud contacts sync, there's a good chance you'll also have lost the contacts on your iCloud account. You can check this: log in to icloud.com with your Apple ID, click on "Contacts" and then check if the lost contact is still there. If it is, you can recover that lost contact easily:
Go to Settings → iCloud

Turn off "Contacts"

Tap "Keep on My iPhone" when the popup message appears

Keep contacts on iPhone

Turn on the "Contacts" again and choose "Merge"

After a while, you should be able to see the deleted contact back on your iPhone
Keep in mind it may take a few minutes for all your contacts to be restored. If this method doesn't solve the problem, you can also try extracting the .vcf file as explained below or using iPhone Backup Extractor.
2. Export contacts from iCloud
If the "Contacts" option has been turned "Off", but you had previously synced your contacts to iCloud, you can export the deleted contacts from the iCloud to computer, and then import them from computer back to your iPhone.
Here are the steps to follow:
Go to your iCloud account and make sure all contact details are updated

Open icloud.com and log in

Click on "Contacts"

In "Settings", click on the cog icon on the bottom left and press "Export vCard..."

iCloud's contacts interface: export vCard...

Save this file on your desktop

Send an email with the .vcf file to yourself

On your iPhone, open the email and tap on the attachment. Tap the "Add Contacts" button. You'll be asked if you'd like to create new contacts or merge them with what you already have in your list.
Still having issues? Use iPhone Backup Extractor to restore contacts via iCloud backup
If none of the above two methods worked, the next best option is to use iPhone Backup Extractor in order to recover your lost contacts from previous iTunes or iCloud backups you've made.
Top 4 reasons for losing iPhone contacts
Failed upgrading or downgrading iOS: from example, from iOS 10 to iOS 11 or vice versa.

Having your iPhone jailbroken: whilst removing software restrictions imposed by iOS, you could also be losing important data.

iPhone reset: you should reset your iPhone back to factory settings only as a last resort, as this can also lead to data loss. If you choose to do this, make sure you backup your data beforehand.

You lost or broke your iPhone.
How to avoid losing iPhone contacts
You'll probably want to make sure this won't happen to you again:
The best way to prevent losing contacts is to regularly backup your data. You can do this by using either iCloud or iTunes: while iCloud offers to store a backup of the iPhone data in Apple's servers, iTunes will let you backup iPhone data directly on your PC or Mac.

You can also export contact lists on a regular basis as a .vcf file and email them to yourself. They'll be safe in your inbox.
We recommend using at least one of the two methods.
Do you have any stories to share on recovering contacts? Do let us know, we'd be happy to hear from you!