Recover deleted Safari browser history and bookmarks
How to extract Safari history and searches from an iOS device or Mac
With iPhone Backup Extractor, you can access data from Apple's built-in apps. If you want to recover your Safari history or check the recent searches you've made, here's how to do this and more.
Navigate to "App view" in iPhone Backup Extractor, then select the Safari application and extract all the files.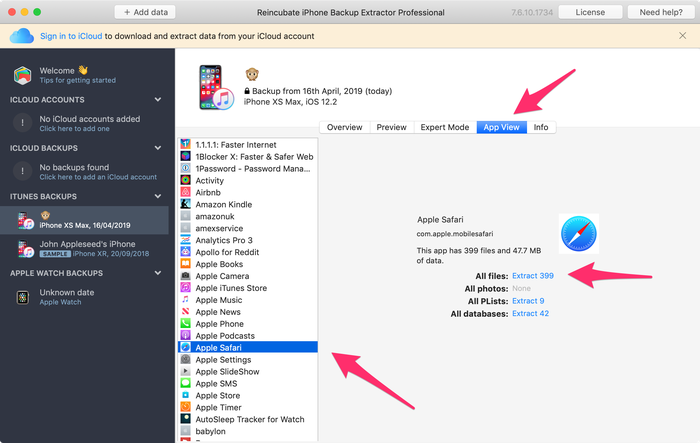 You might notice that some of the extracted files have a .plist extension. You can view/edit these files by going to the File menu of the iPhone Backup Extractor and by clicking on View / Edit PList. Choose the file you want to view and click Open.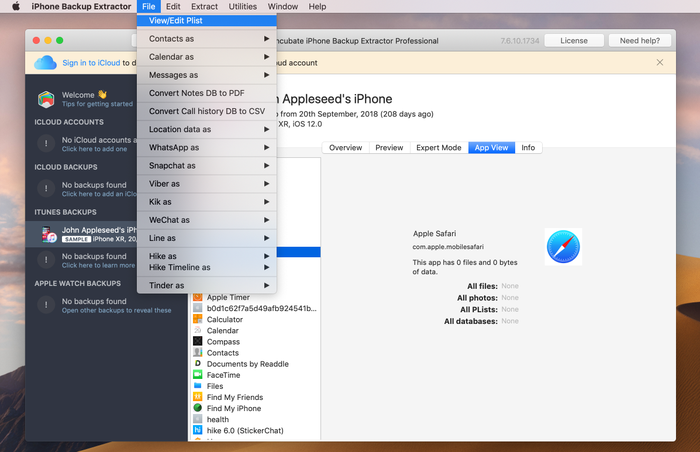 To view your Safari browsing history, you have to open the file History.db.
To browse your latest searches made on Safari, open the file RecentSearches.plist.
If your backup pre-dates the history being deleted on an iPhone, iPad -- or on a Mac sharing the same iCloud account -- you'll be able to see all of the deleted data. Neat, huh? 🤔
Below you can see a screenshot of the recent searches file, as extracted by iPhone Backup Extractor. The search queries are between the tags.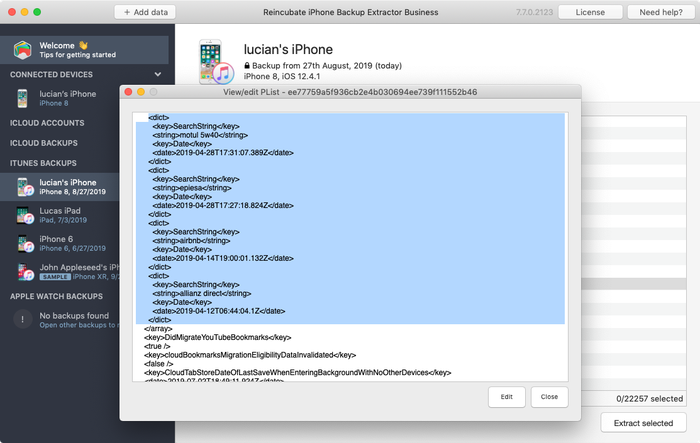 How do I get my Safari bookmarks from an iTunes backup?
We know how important bookmarking your favourite websites can be, but what happens if you lose or delete your bookmarks on your iPhone, iPad or iPod? If you've backed up your iOS device in iTunes it's possible to recover these, and today we're going to look at how this can be done with iPhone Backup Extractor.
Your bookmarks, along with other important data such as WhatsApp messages, contacts, SMS (etc.) are stored in your iPhone backup, and -- with the right tools -- can be easily read. In particular, iPhone Backup Extractor can extract the bookmarks.db that Safari uses to store your bookmarks.
You can access that file with the steps below:
Open iPhone Backup Extractor and select the backup you wish to extract bookmarks from
Select "Expert Mode"
Navigate to the Library folder, then to the Safari subfolder
Select the bookmarks.db file
Click the "Extract selected" button and choose a folder to save the bookmarks.db file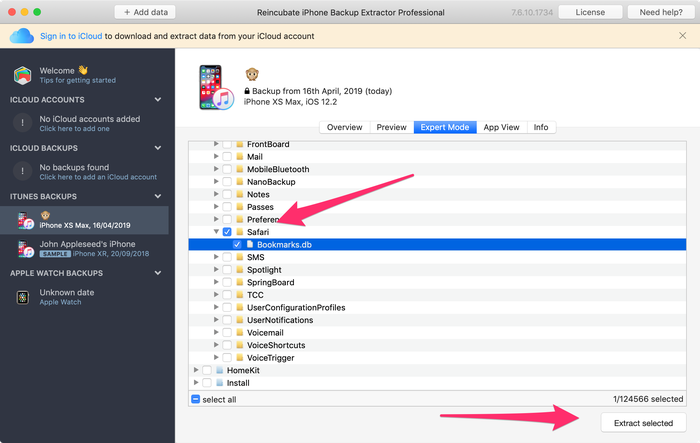 How to read the Safari bookmarks database
This isn't rocket science, so don't panic! 🚀 This database file is in SQLite format, and we need another tool to read those files. Our note below includes links to get the best SQLite reading tools, but for now we'll assume you're using the Mozilla add-on named "SQLite Manager".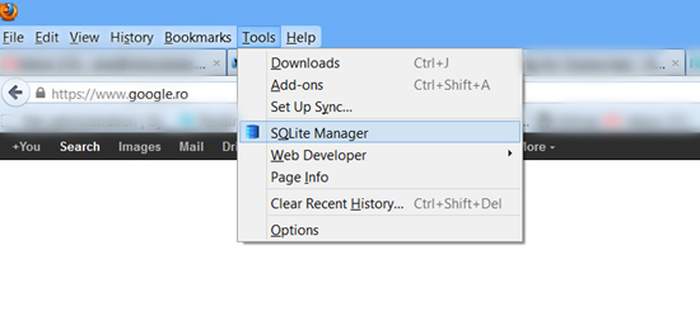 Open SQLite Manager and open the bookmarks.db file you extracted. Make sure you select the "All files" option, so you can see the .db file to open it.
Once the database is open, select the bookmarks database and you will see the title and URL fields and your bookmarks will be revealed. And that's all -- you now see all of your bookmarks.
If you wish to try some SQL and show just the two fields, use:
SELECT

 

title

,

 

url

 

FROM

 

bookmarks



...in the "Execute the SQL file" tab. If you do this, you'll find you can even save the results to CSV.
If you get stuck, reach out to us via live chat or email, and we'll do our best to help!